---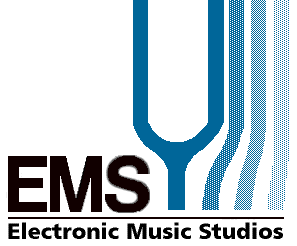 Electronic Music Studios
Home Page
Last updated: 5th May 2020

---
The World's Longest Established Synthesizer Manufacturer
Electronic Music Studios,
Trendeal Vean Barn,
Ladock, Truro, Cornwall.
TR2 4NW. England.

Tel: Int + 44 (0)1726 883265
Email:ems.synthesisers@gmail.com
Original Synthi As, VCS3s are still in production. Spares and service are still available for most of the original products.
Prices do not include carriage or duties.
Synthi A
£5950
Synthi VCS3
£5950
Patch Pins
£9-50 each
Modifications
poa
---
Our Past
The Products
The definitive guide to EMS products between 1969 and 1979.
Including many previously unseen photographs and material from the EMS archives
Over 5 Megabytes of high resolution images!
The History
A background on the original Electronic Music Studios (London) Ltd., the people who designed the equipment and the users who pioneered its application.
The Adverts
Some of the classic EMS publicity photos.
---
Are you an EMS User?
Then we would like to hear from you and know what equipment you have.
Please fill in the following information and click the Register button below so that we can keep you informed of new developments:
---

Go to Graham Hinton's EMS Modifications Page
for details of servicing and modifying the VCS3 and Synthi A.
Sales & Service enquiries to EMS Sales
Other enquiries and comments on these pages to emsmaster
All material on these pages Copyright ©1998 EMS and Graham Hinton.
Synthi is a trademark of Electronic Music Studios.
All manufacturers' trademarks are acknowledged.
---